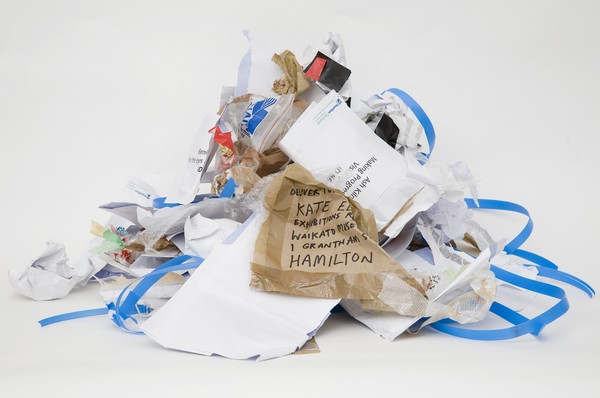 The Trust Waikato National Contemporary Art Award for 2009 and its $15,000 prize has been awarded to Aukland artist Dane Mitchell for a piece he did not create.
In much the way that John Cage
removed musicians from music
, The Waikato competition is removing the artist from art.
Last year's winner
(pictured below) was "Patrick Lundberg with his entry 'Untitled' a found piece of plaster board revealing the history of a piece of wall." To rephrase, he submitted a used piece of drywall.
This year, Dane Mitchell took the process one step further: he didn't even touch the winning entry. In a move reminiscent of Twain's Tom Sawyer, Mitchell called the museum staff and had them collect the trash created by the other competitors when they set up their exhibits, then had the staff dump the collected trash on the floor.
When he was announced as the winner, Mitchell had not yet seen his creation.
The other artists were not pleased.
Contemporary art needs to say something to you and make you think. I am sorry but I just cannot see the 'clever' and 'cheeky' in the winning sculpture. Is someone trying to make Trust Waikato look like a joke? - Mark Hayes
A pile of rubbish that wasn't even created by this guy is worth $15,000? It is a sad mockery of us all and an embarrassment to the arts community. - Collette Fergus
The worst yet. - Bruce McLachlan
However, this year's judge, Charlotte Huddleston, the Curator of Contemporary Art at Te Papa Tongarewa the Museum of New Zealand. begs to differ. "Dane's work responds well to his current situation, addressing, as is typical for him, the interplay of art, culture, anthropology, archaeology and his own situation within these systems," she says.
And, Waikato museum director Kate Vusoniwailala said the judge's decision had achieved the objective of getting a lot of people talking about the awards, which is, of course, what will make the 2009 winning exhibit every bit as timeless as last year's winner.
Michelangelo is quaking in his boots.
Sources:
3 News
(via
Fark
)
New Zealand Herald
Info News
Stuff
Waikato Museum
Wikipedia
Museum of New Zealand